OSG, part of the Bland Group International based in Gibraltar were invited to attend the Counter Terror Expo at the London Olympia.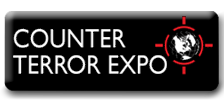 Counter Terror Expo is the critically acclaimed, highly specialised, event for those who are tasked with the demanding and complex role of delivering a robust defence against the threat posed from international terrorism.
The Expo plays host to well over 400 of the world's leading solutions providers annually, making the showcase exhibition one of the biggest of its kind. This focused exhibition delivers the ideal platform for vendors offering products with a clearly defined role to play in the delivery of a robust defence against international terrorism.
Counter Terror Expo's showcase exhibition provides a forum in which to discuss requirements, define capability, and demonstrate products to senior buyers who flock to this key event, presenting the latest counter terrorism and specialist security products and technologies.
The event has been established to deliver a unique and secure environment in which a dedicated audience of security professionals and leading experts within the critically important counter-terror and crisis management arena can come together to buy products, share experience and gain knowledge. It offers a secure environment to ascertain the latest security technologies and innovations and understand how to deploy new solutions to improve security.
John Perez CEO of the Bland Group International said "It is critical that as a security service provider that we keep ourselves informed of all the methods and solutions available to counter any type of threats. It is also important to keep ourselves abreast of the latest technologies available to us in the industry".